For lovers of raw cookie dough, these jaw-dropping ice cream sandwiches are the ultimate treat: featuring layers of raw cookie dough and a rich, brown sugar ice cream in between.
This is chocolate chip cookie dough ice cream deconstructed, with two thin layers of safe-to-eat raw cookie dough in place of where the cookies would typically be. And in between lies an ultra rich and creamy brown sugar frozen custard, excellent on its own but divine when paired with cookie dough.
Ok, so I admit that I already have a cookie dough ice cream sandwich recipe in my book (in fact, it's on the cover!) It's a great recipe, I'm not saying it's not (I wouldn't have put it in the book if it wasn't), with a thick layer of homemade chocolate chip cookie dough ice cream sandwiched between two sweet and salty dark chocolate cookies. I mean, it sounds amazing, right? Because it is.
But though they might both be called the same thing, I promise you I'm not repeating myself here (and I admit I've repeated recipes before, albeit not intentionally). Rather, these cookie dough ice cream sandwiches are a different beast entirely. The cookie dough is the main focus here, pure and unadulterated with no chocolate cookie to distract you from your cookie dough bliss.
That, and, well, let's face it, they're easier. These are the ice cream sandwiches that you'll make when you're craving cookie dough and ice cream sandwiches but don't want to deal with the time/effort to make the cookies.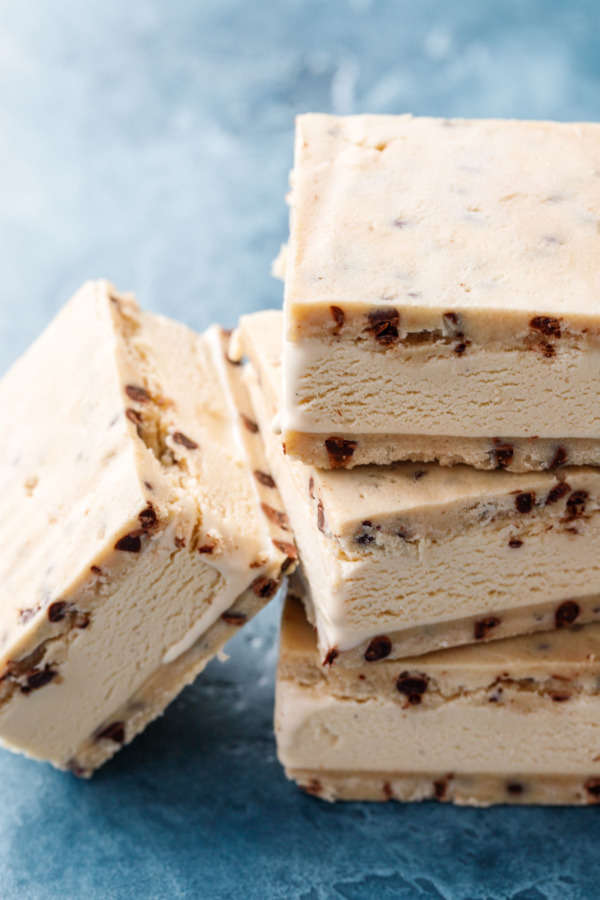 Lest we focus solely on the cookie dough itself and forget about the ice cream… this isn't any ordinary ice cream. It's brown sugar ice cream, or frozen custard, if you will (characterized by the egg base that makes this ice cream incredibly rich and creamy).
The brown sugar ice cream is excellent on its own, too, in case you were wondering (and depending on how thick you make your sandwiches you might very well have some leftover, poor you).
Also, I strongly believe that few things compare to homemade ice cream, but you could certainly swap in a quart of store-bought vanilla or cookie dough ice cream here as well if you're short on time.