If you thought grilled cheese couldn't get any better… try adding pickles. Golden toasty bread, gooey cheddar cheese and sweet and salty bread and butter pickles combine to make the ultimate grilled cheese sandwich.
The classic grilled cheese gets a flavorful update with the addition of tangy bread and butter pickles. The pop of vinegary sweetness is the perfect compliment to the rich, melty cheddar cheese and golden toasted bread.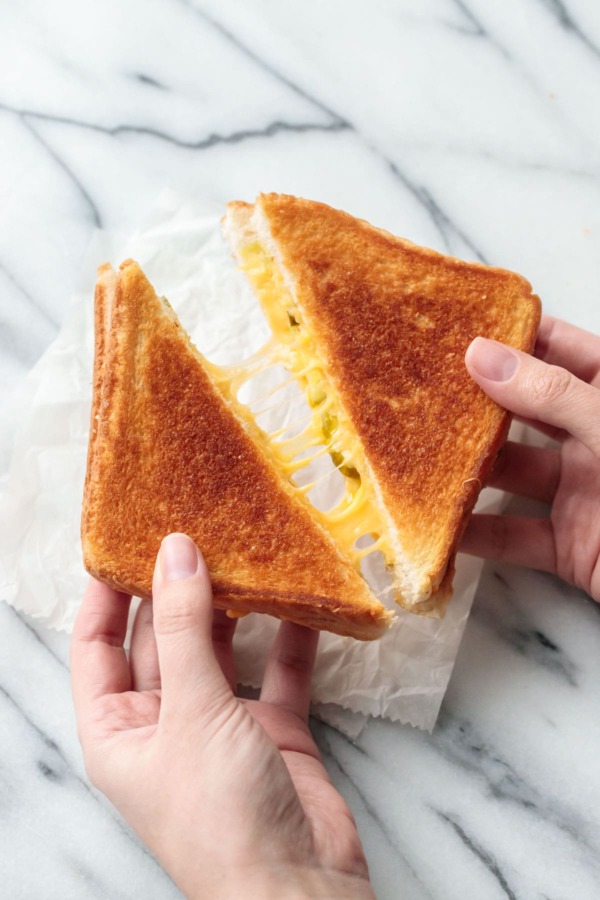 I love me a good grilled cheese.
There were few things that pleased me more than a classic grilled cheese sandwich, with toasted white bread and American cheese (yes, I was one of those picky kids who survived on starchy beige food for most of my childhood years). The *only* concession I ever made as far as additions was a bit of sliced avocado, and only then at Boogie's restaurant in my hometown (paired with a cookies 'n cream milkshake, well, it was pretty much my idea of heaven).
As an adult, my tastes have matured a bit, preferring quality aged cheddar in place of the processed stuff (just as melty, but without that weird plasticky texture). I'm also more open nowadays to grown-up additions like homemade jam (tomato and apricot being my favorite combinations), bacon (or, better yet, bacon jam!), fresh arugula, ripe tomato slices, or, in this case, bread and butter pickles.
Ok hear me out here, because I know it sounds a little weird. But the hint of salty, sweet, and sour is the perfect compliment to the sharp cheddar cheese and toasty bread. It's like the missing half of the puzzle you never knew you were missing. I mean, they are called bread and butter pickles for a reason, right? Why not enjoy them with their namesake (just add toasted cheese).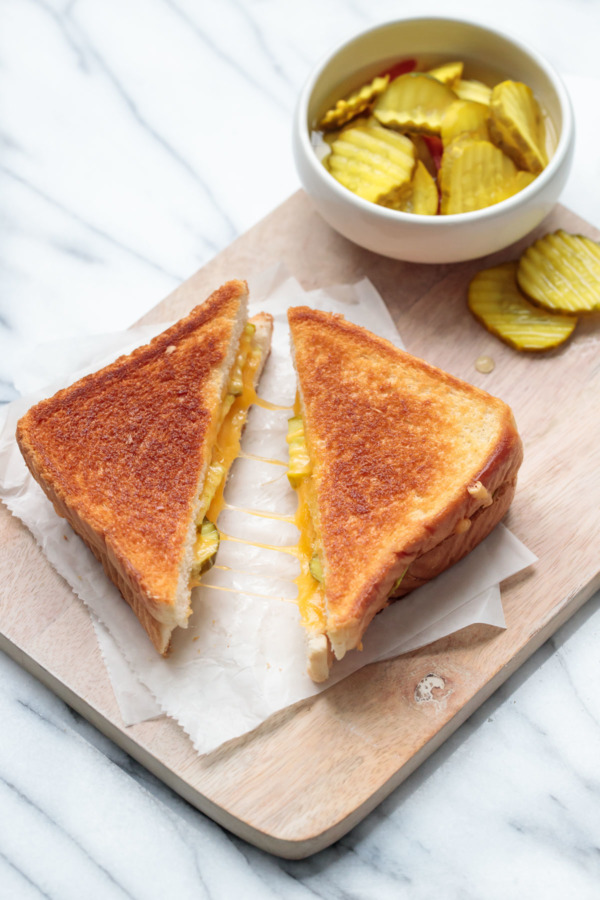 We tried this combination with dill pickles as well, but it really needs that sweetness from the bread and butters (probably why homemade jam works so well, that hint of sweetness really pairs perfectly with the sharp cheddar cheese).
Cheese matters. If you can find it, Tillamook's Medium Cheddar cheese is our favorite grilled cheese cheese: it's just sharp enough to give the sandwich flavor, but still perfectly oozy and melty. We shred our cheese vs slice, having found that shreds melt more evenly than slices do.